MORE THAN A DECADE CONNECTING YOU TO THE SUN
We are specialists in transforming sunlight in energy for your home or company.
We are a proud company in Malaga that works across Spain and has an office in Mexico.
We know each other well. We have been working with her since 2007 to offer you the best energy alternative to conventional electricity supply.
AND FROM GERMANY TO THE MEDITERRANEAN
Frank, the company founder, is German. He works every day so that it is not said that we use the sun less than in his country.
We have experience in all types of installations, no matter their size. Homes, businesses, industries and buildings can benefit from the sun.
THE QUALITY NO COINCIDENCE
It was clear to me from my first project that my customers' satisfaction had to be the measure of success for me.
When they tell me that we do a good job, it is the result of this vision and three fundamental principles.
Give the customer what he really need, use the best technology available and rely on the best team you can put together.
Seal all of this with a personal commitment. Mine.
I answer every customer. You can always speak to me directly before, during and after each project.
Connecting to the sun is what we know how to do. Proving it to you is what we must.
What customers we have connected to the sun are saying.
We appreciate the quick time between the first visit with a full explanation and the subsequent full installation within a few days. Also the after-sales service, including assistance in relocating to an optimal energy supplier, ran smoothly.It is a really complete service. We recommend working with Frank and his team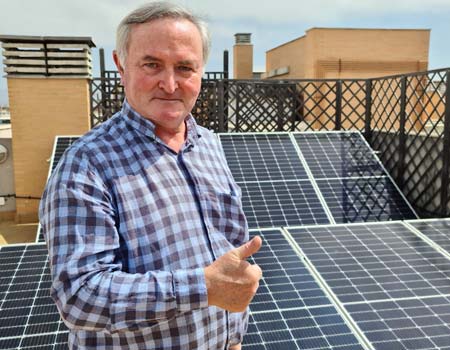 If you live in the south of Spain, the transition to solar energy is inevitable. To do it well, you need an experienced and reliable guide. Frank is your man. Frank is your man. Not only does he have years of experience, but he will make sure you have what you need and nothing else. In addition, their after-sales service is exceptional. I highly recommend it
I would undoubtedly highlight two fundamental aspects in your work as an installation company: honesty and professionalism
WE MAKE THE NUMBERS FOR YOU
Take 2 minutes to fill out a form and in 72 business hours we will send you a full report with the details of our proposal.
Free and without obligation.
Check outour FAQpage or ask us to give you a call.