Start saving with a simple and comfortable system to generate your own energy
Since 2019, every consumer has been allowed to generate their own energy.
Self-produce the energy you need for your home, swimming pool, electric vehicle … with an investment that can be amortized in a few years.
We design the best solution for you according to your consumption and needs, always with top brand equipment.
Solar energy is clean and efficient energy. Take advantage of the more than 3000 hours of sunshine per year that we have.
We explain how to take care of the equipment and offer you, as an option, a periodic maintenance service
Homes with their own solar panels have higher prices and sell faster.
Take advantage of public aid
We help you with direct subsidies and local, regional and state tax advantages.
Real stories of families and people like you
We appreciated the quick response time between the first visit, where everything was explained to us in detail, and the complete installation within a few days.
Also after-sales service, including assistance to easily switch to a better energy supplier.
It is a really complete service. We recommend working with Frank and his team.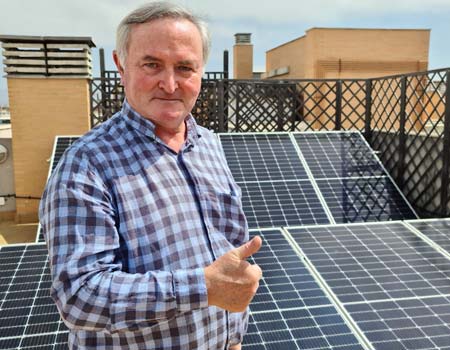 If you live in the south of Spain, the transition to solar energy is inevitable.
To do it well, you need an experienced and reliable guide. Frank is your man. Frank is your man. Not only does he have years of experience, but he will make sure you have what you need and nothing else.
In addition, their after-sales service is exceptional. I highly recommend it.
I would undoubtedly highlight two fundamental aspects of their work as an installation company: honesty and professionalism.
WE MAKE THE NUMBERS FOR YOU
Discover for yourself the advantages of installing solar panels on your home.
Take 2 minutes to fill out a form and in 72 business hours we will send you a full report with the details of our proposal.
Free and without obligation.
Check outour FAQpage or ask us to give you a call.