KOMMERZIELLE INSTALLATION
If you have an area to install solar panels, You have a plug in the sun.
We've helped save your electricity bill Shopping centers, petrol stations, rooms with roofs, logistics halls, office buildings … Take full advantage of the best energy source for your business.
Most companies have a schedule that allows them to optimize the hours of sunshine. We'll tell you how much.
The savings are direct and measurable from the first start of the system. Bills won't be the same anymore.
We design the best solution for your company according to your installation and needs, always with first class equipment
Solar energy is clean and efficient energy. Take advantage of the more than 3000 hours of sunshine per year that we have.
Your system must always perform at the best. Optionally, you can delegate its maintenance to us.
Minimizes inconvenience and loss due to outages in power generation.
Take advantage of public aid
We help you with direct subsidies and local, regional and state tax advantages.
Our clients know more than we do on how the sun and our systems have improved their lives.
We appreciate the quick time between the first visit with a full explanation and the subsequent full installation within a few days. Also the after-sales service, including assistance in relocating to an optimal energy supplier, ran smoothly.It is a really complete service. We recommend working with Frank and his team
I would undoubtedly highlight two fundamental aspects in your work as an installation company: honesty and professionalism
Es la mejor inversión que hemos hecho. Todo muy bien desde el principio y encantados de estar en manos de los mejores.
If you live in the south of Spain, the transition to solar energy is inevitable.
To do it well, you need an experienced and reliable guide. Frank is your man. Frank is your man. Not only does he have years of experience, but he will make sure you have what you need and nothing else.
In addition, their after-sales service is exceptional. I highly recommend it.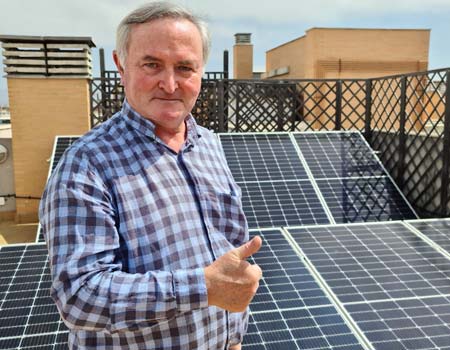 A detailed selection of our projects
WE MAKE THE NUMBERS FOR YOU
Discover for yourself the advantages of installing solar panels in your business.
Take 2 minutes to fill out a form and in 72 business hours we will send you a full report with the details of our proposal.Free and without obligation.
Check outour FAQpage or ask us to give you a call.