We make sure that your solar modules keep their performance with periodic inspection and cleaning service
The sun does not fail. Neither do your panels
Get the most out of your photovoltaic system. Our qualified technicians guarantee maximum efficiency.
We take care of the checking, adjustment and cleaning of your system completely and regularly.
We expect problems that can lead to costly repairs.
We make sure that the equipment works to the maximum of its technical performance according to its location.
Your equipment will extend its useful life, improving the rentability on investment.
Effectiveness of guarantees
Proper maintenance allows you to take advantage of manufacturers' warranties.
Real stories of customers who entrusted us with maintenance
I would undoubtedly highlight two fundamental aspects of their work as an installation company: honesty and professionalism.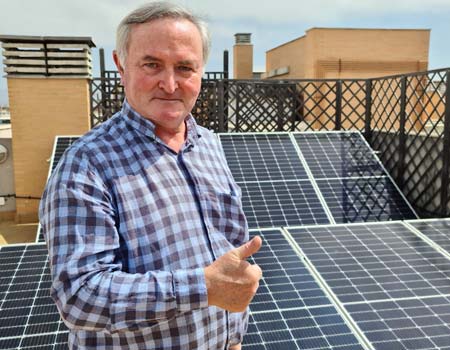 If you live in the south of Spain, the transition to solar energy is inevitable.
To do it well, you need an experienced and reliable guide. Frank is your man. Frank is your man. Not only does he have years of experience, but he will make sure you have what you need and nothing else.
In addition, their after-sales service is exceptional. I highly recommend it.
We appreciated the quick response time between the first visit, where everything was explained to us in detail, and the complete installation within a few days.
Also after-sales service, including assistance to easily switch to a better energy supplier.
It is a really complete service. We recommend working with Frank and his team.
We prepare a customized budget for you and without obligation
The price varies depending on the number of modules
ASK US FOR THE SERVICE THAT SUITS YOUR NEEDS
We offer you a maintenance contract for your new or existing system, ask us for a cost estimate
Check outour FAQpage or ask us to give you a call.