We connect you to the sun®
Tailor-made projects to save, invest and insure the energy supply in your home, business or industry. As easy as flipping a switch.
It all starts with knowing what you need. Without obligation.
MORE THAN 1,300 CUSTOM PROJECTS
From small isolated houses to large industrial buildings, we design solutions to take advantage of every last ray of sunlight
THE SUN BELONGS TO EVERYONE. IT'S ALSO YOURS
The sun tax no longer exists. Reduce your bill with an installation that generates clean energy from day one, the payback takes only a few years and revalues ​​your home.
SAVE WITH EACH SQUARE METER FROM THE SUN IN YOUR BUSINESS
Cut one of your main expenses with a simple and sustainable solution. We evaluate your installation so that you know in detail the investment and energy savings in any type of business.
An investment that boosts your competitiveness
Investing in solar panels is one of the best ways to save money, guarantee an uninterrupted electricity supply and meet your environmental commitments. We analyse your industry to offer you the most efficient global solution.
LET NOTHING CLOUD THE PERFORMANCE OF YOUR SOLAR MODULES
We make sure that your installation operates at full capacity all year round and we anticipate problems with a periodic inspection and cleaning service.
A SIMPLE WORKING PROCESS IN 4 STEPS
We like clear skies. Work, too
Investments are scary. Studies, figures, bureaucracy.
We do it all and we make it easy from your first call
You give us your information and the latest electricity bill. If necessary, we will call you to review any technical aspect. That easy.
We design the system and calculate its profitability. We present you a detailed quote without obligation. Pictures, figures, everything
We install, review and start the system. We will advise you on its use.
We release you from any management. We take care of the registration and all the paperwork.
What we do supports us, not what we say
We have been on the rooftops for more than a decade. But that does not matter. What matters are the satisfied customers who have helped us grow through word of mouth, project by project.
This is how we earn your trust.
We speak to you without the engineer helmet. A solar installation is not a nuclear power plant.
Quality products make a difference. We only work with the first brands.
The detail and order define us. We are meticulous in every step, from paper to work.
THE EXCELLENCE OF THE DAY AFTER
We pride ourselves on our after-sales service, technical support and maintenance.
Our clients know more than we do on how the sun
and our systems have improved their lives.
We appreciate the quick time between the first visit with a full explanation and the subsequent full installation within a few days. Also the after-sales service, including assistance in relocating to an optimal energy supplier, ran smoothly.It is a really complete service. We recommend working with Frank and his team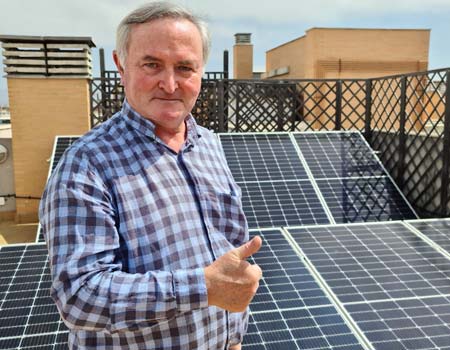 If you live in the south of Spain, the transition to solar energy is inevitable.
To do it well, you need an experienced and reliable guide. Frank is your man. Frank is your man. Not only does he have years of experience, but he will make sure you have what you need and nothing else.
In addition, their after-sales service is exceptional. I highly recommend it.
I would undoubtedly highlight two fundamental aspects in your work as an installation company: honesty and professionalism